Home > Europe Destination > France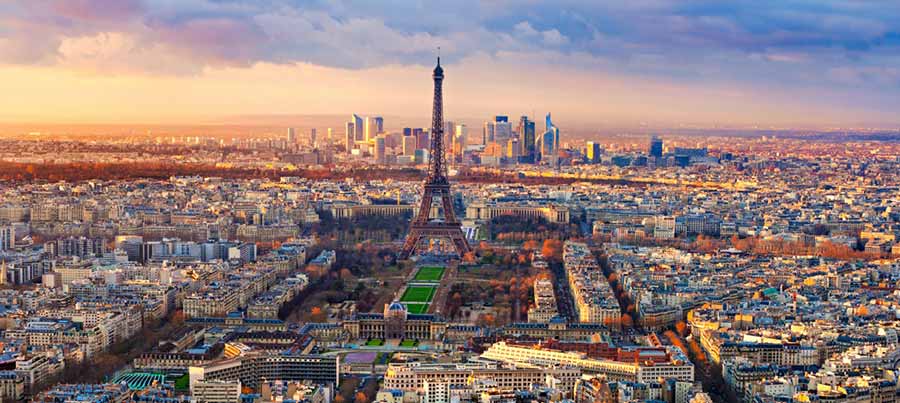 Hertz in France
From rolling hills in rural retreats, to the chic cultural hotspots and sophisticated cities, France is a charming country that packs a lot in. Exploring the country provides a unique and memorable experience each time you return - and hiring a car will allow you to take in everything France offers.
You'll find us in close to 250 branches across the entirety of France – all conveniently located whether you're arriving at the airport for a family holiday, or heading for a business meeting in the capital, Paris.

Wherever you are, you'll find that booking your rental car is refreshingly easy. Simply select your desired car online before you arrive and we'll arrange the rest. We've got a rental helpline which is open 24/7 in case you need support, and a fantastic loyalty program which offers various perks, including frequent flyer points, making booking with us a stress-free experience.
Driving in and around France
Thanks to its comprehensive road network, you'll have no trouble exploring everything that France has to offer. The easy-to-navigate Autoroutes (France's highways) connect cities across the country, from Marseille in the south to Paris in the north, allowing you to take in the best of the countryside on the rural routes through the Loire Valley.
When you're driving in France, remember to pay close attention to the colors of road signs. Autoroutes are marked with blue signs, Route Nationales (N roads) will have green signs and Department Roads (D) - which tend to be locally-ran routes - will have white signs.
The A1 Autoroute, otherwise known as l'autoroute du Nord, is France's busiest highway. It connects Paris with Lille, a northern city that's famed for its art galleries and fantastic restaurants. The A1 Autoroute also provides direct access to some of Paris's biggest attractions, including the Parc Astérix theme park and the Stade de France – the national stadium.
You may have to pay a toll charge for driving along certain Autoroutes, or on certain stretches. Although the fees will vary from road to road, you can check all the charges in advance of your journey.
It's important to carry all required documentation with you when driving your hire car in France, as the local authorities tend to be stringent with the rules of the road.
As a number of new rules regulations were introduced in 2012, it's worth reading up on France's driving laws before taking to the wheel - you'll find all the details here.
A quick guide to France
Whether you're visiting France for a couple of days or planning on a longer break, you'll be spoilt for choice when deciding what to see and do. With medieval castles, award-winning museums, Michelin-starred restaurants and beautiful landscapes, there's certainly something for everyone.
The City of Lights
As one of the world's most-visited cities, Paris. is a bustling metropolis of culture and landmarks, covering everything from renowned galleries to iconic monuments. The heart of the city contains a slew of buildings dating from throughout the ages – walking the Parisian streets gives the chance to enjoy the capital's timelessness. Climb up the Eiffel Tower and enjoy breath-taking views across the city - the perfect vantage point for a holiday picture. Widely regarded as the city's best example of Gothic French architecture, visit the gargoyle-adorned Notre Dame Cathedral – sign up for a tour and you'll get to clamber up the winding stairs to the belfry. If you love digging deep into world history, no visit to France would be complete without a tour of the Palace of Versailles, which can be found in the Île-de-France region just a short drive from Paris.
Head to Provins, a medieval city and UNESCO-listed site located to the south-east of Paris. Make sure you check out the medieval fortifications across the area, and be sure to plan a visit to Provins police station. This striking building was designed by celebrated architects Philippe Ameller and Jacques Dubois, and features stunning copper louvers and vast expanses of locally-sourced creamy white stone.
Chic coastal retreats in the south
In the south of France sits the French Riviera – a picturesque stretch of Mediterranean coastline renowned for its culture, sophistication and golden beaches.
Nice makes for the perfect destination if you're looking for good weather and an abundance of historical attractions. A renowned hotspot for painters, take in Musée Matisse or Musée Marc Chagall to explore this city's artistic history, or head to the Terra Amata to see a prehistoric archaeological site up close.
Music lovers will find endless things to do in the jazz town of Antibes, found eastbound from Nice. Visit Cannes, one of France's most popular coastal towns, famed for its connection with the world of cinema, thanks to the annual film festival held there. If you're looking for a chic retreat, explore everything that nearby Saint-Tropez has to offer. Here you'll be able to enjoy the shores of the Mediterranean Sea with ease, relaxing in the sunshine and taking a dip in the cool waters.
West of the Riviera, you'll find Marseille – a dynamic hub of attractions and industry. The city's home to one of France's largest ports, exporting and importing goods from around the world. You'll be able to head into the beautiful Parc National des Calanques from here too, and take the chance to explore the idyllic Provence countryside.
The Alps and the east
Perfect in both the winter and summer months, The Alps mountain range and eastern France are a great location for those who love the outdoors. Head to Val D'Isere or Chamonix to explore some of the world's finest ski and snowboard resorts. Or if you prefer hiking and cycling, you'll find these same destinations will offer you fantastic trails and walks across challenging terrain in the summer too.
The biggest city in the east of France is Lyon – a center for commerce, with large companies from the biotech and pharmaceutical sectors are based here. You also find a number of museums here to explore too, including the Museum of Fine Arts in the Palais Saint Pierre – the country's largest after Le Louvre. With so many cities and regions to explore, renting a car in France will allow you the opportunity to take in everything this country has to offer. Ready to book your trip? Click here.