Home > Europe Destination > United Kingdom > London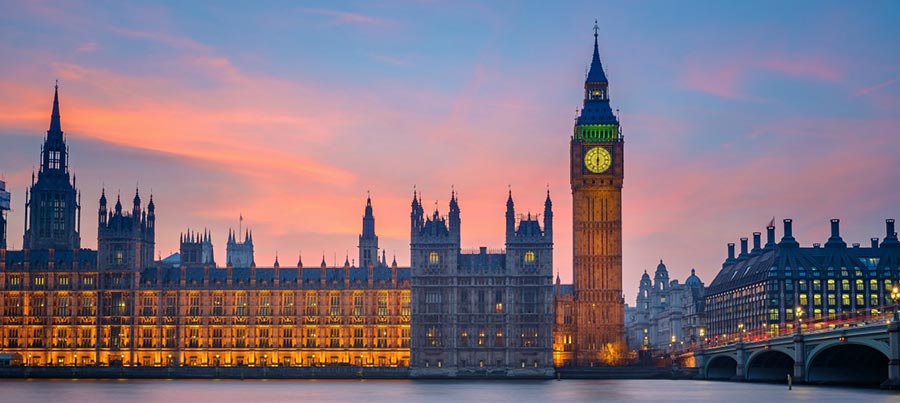 Hertz in London, United Kingdom
A thriving, colorful capital brimming with historic buildings, beautiful parks and a diverse representation of worldly influences, London is a fast-paced city which promises something new and exciting each time you visit. Not just a vibrant hub of culture and heritage, the city is also a global player on the business front, with big names from the financial and fashion industries situated here.
We have a large number of branches throughout the city, at major airports such as Heathrow and Gatwick but also at other central transport connections including London St Pancras, all conveniently located to make your trip that bit easier.
And whether you're visiting the city for business or for pleasure, renting a car in London has never been simpler, thanks to a fantastic range of vehicles, a 24-hour helpline and the option to cancel or amend your car hire package without penalty within seven days of making the booking.
Driving in and around London
From driving past Big Ben and the Houses of Parliament to exploring the rural reaches of southern England, London's road network makes it easy and efficient to take in all the sights and sounds of this bubbling metropolis and its picturesque surroundings.
It's worth noting that congestion fees apply to those traveling within the city center – the fee is levied between 07:00 and 18:00 on weekdays. Payment can be made via the internet – find out more on Transport for London's congestion charge website.
London's streets can become busy during peak times, with Oxford Circus, Regent Street, and Piccadilly Circus being some of the more congested areas. There are one-way systems in operation through the city too, to help ease traffic flow.
Circling around the entire of London, the M25 orbital motorway offers simple access to the heart of the city and acts as a major connection point to the wider UK. If you're looking to visit Warner Bros. Studio Tour to see behind the scenes of the Harry Potter series, this loop road will allow you to head north of London to Watford. The city is connected to the rest of the UK via a number of motorways, including the M1 and M4 – all accessible from the M25.
The city is served by two major airports – you'll find Heathrow 30 kilometers to the west of London on the M4, while Gatwick is located 45 kilometers down the M23 to the south.
If you're exploring beyond London, several key routes can be found within the city center that will take you directly to some of southern England's main tourist sites. The A2 connects you with
Kent, home to the White Cliffs of Dover, whereas the A3 and A4 will take you to Portsmouth to the south and Bristol to the west respectively.
You can find out all the rules and regulations of driving in the UK here.
A quick guide to London
Visit the English capital and you'll have a plethora of world class attractions on your doorstep. It's also perfectly positioned to explore southern England, an area which includes dramatic stretches of coastline and the rolling hills of its celebrated countryside.
History and nature in the city center
London has an incredibly diverse range of museums and access to the majority of them are free of charge. Head for the British Museum, where you'll find some of the UK's most revered artifacts including the Rosetta Stone, as well as Roman mosaics and items recovered from the Sutton Hoo Anglo-Saxon burial site. The Natural History Museum is a hi-tech research institution where you can learn about everything from dinosaurs to gemstones. For nature buffs, visit the Darwin Centre and see over 22 million insect and plant specimens, and watch the museum's scientists at work.
Art lovers won't be disappointed either with so many world-renowned galleries in central London to choose from. The National Gallery, on Trafalgar Square, houses works by European masters like Van Gogh and Renoir. If you're looking for works from the 21st century, head to the Tate Modern and take in the abstract and modernistic art forms on display during one of the day's free tours. With ever-changing exhibits, we also advise checking out what's on at the Tate whilst you're in London.
Exploring the idyllic countryside
Southern England is known as the garden of England, and London is surrounded by some of the country's most beautiful areas. Kent, to the east of the city, is where you'll find the White Cliffs of Dover – wander along these breathtaking cliffs and you might just catch a glimpse of France on a clear day.
Kent is also where you'll find several quaint market towns, including Canterbury, with its beautiful cathedral and literary connections, and Margate, a seaside town with a historic fairground and sandy beaches.
Berkshire is typified by its rural villages – this is where you'll find Windsor Castle as well as Highclere Castle, which doubled as Downton Abbey in the hit TV series. A drive through the Buckinghamshire uncovers gabled houses and winding lanes. You'll understand why it's known as the most filmed county in the UK, with a whole host of TV shows shooting in this charming region.
Local markets or Michelin-starred restaurant?
London's food scene offers a bit of everything from urban food stalls to Michelin-starred restaurants. Although some of the best restaurants can be found in central London – particularly around Oxford Street, Covent Garden and Kensington - east London is hard to beat for authentic tastes. Brick Lane is famous for its award-winning curry restaurants and east London is known for its incredibly diverse cuisine – you'll find a taste of everything here from Vietnamese to Peruvian restaurants.
Whether you're taken by a taste of the English culture or want to sample life amid Britain's bustle, renting a car in London allows you to take in some of the world's most recognized sights and enjoy a pleasant rural retreat too. Ready to book your trip? Click here.