Home > Europe Destination > United Kingdom > Manchester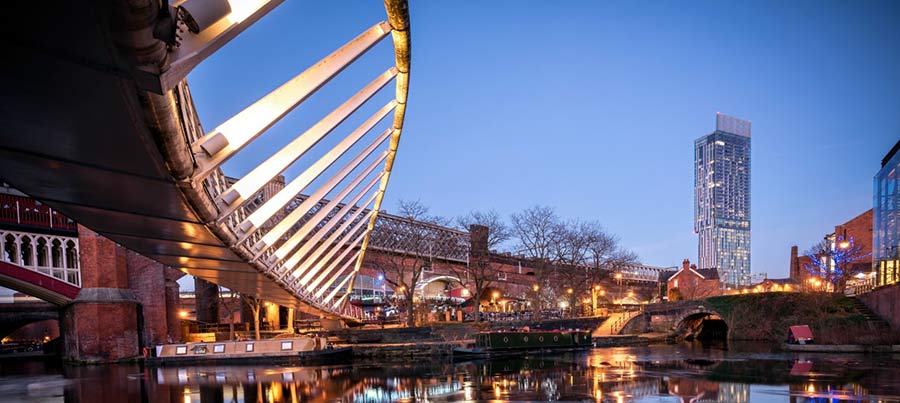 Hertz in Manchester, United Kingdom
Often referred to as the UK's second city, Manchester is typified by northern charm, a fascinating history, and a lively social scene. Tourists flock here for the great restaurants, fantastic museums, and world-class sporting events, although there's much more to this beautiful area.
Renting a car in Manchester is incredibly easy. There are branches in the city center itself - and on the outskirts including one at Manchester Airport. And car rentals are a great way to explore this part of northern England – historic towns like Stockport are just a short drive away, as are vast tracts of countryside like the West Pennine Moors.
Whichever type of vehicle you choose, you'll enjoy peace of mind thanks to our 24-hour helpline and the option to amend your hire car plans at no extra charge.*
*When the booking is amended or canceled within seven days of being made
A quick guide to Manchester
Manchester is a city filled with music, culture and history, and whether you're visiting for pleasure or for business, it's a place which is sure to seduce you with its warm unique atmosphere.
The great outdoors
Clamber to the top of Manchester's clock tower and you can see the hills of Wales - a reminder of just how close this city is to some of the UK's most beautiful countryside retreats. The city is a great base for those wishing to hike the Pennines, the rugged mountain range which is often referred to as the backbone of England, and with a rental car<, you'll be able to reach the various trails in no time at all.
But there are plenty of wonderful walking trails within the city limits too, with Manchester's canal paths doubling as popular hiking routes. In Oldham, a town in Greater Manchester, look out for the pieces of art installed along the length of the Huddersfield canal. Walk along the stretch of the Rochdale Canal which passes through Manchester city center and you'll be able to take in the ruins of the Mamucium Roman Fort and the lively Deansgate Locks area.
Boutiques and big name brands
Manchester is an exhilarating shopping destination, with everything from vintage boutiques to enormous shopping malls and designer stores. Exchange Square is one of the busiest shopping areas – here you'll find main street stores squeezed in alongside department stores like Harvey Nichols and Selfridges. Nearby Spinningfields is where you'll find designer labels like Mulberry and Armani (the latter inside a particularly futuristic-looking building) while the Northern Quarter is known for its quirky boutiques. Don't miss Affleck's Palace, a maze-like emporium filled with independent retailers selling everything from fluorescent hair dye to bespoke jewelry. There's also the Trafford Center, on the outskirts of the city, housing over 230 stores and dozens of restaurants to head to when shopping fatigue sets in.
The magic Mancunian social scene
Northern cities are famous for their nightlife and Manchester is no exception. It's known for its diversity; you will find everything from jazz and blues cafés to comedy clubs and restaurants. One of the liveliest areas is the Northern Quarter in the city center, with its independent and high-end restaurants. For something a little out of the ordinary, take a trip to the Junkyard Golf Club – a unique twist on the classic mini-golf.
The city also has one of the UK's best live music scenes. The enormous Manchester Arena has hosted some of the world's biggest bands but smaller venues worth checking out include Gorilla on Whitworth Street, which also hosts regular book readings, and the Soup Kitchen in Spear Street. This is one of the city's busiest venues and regularly hosts some of the world's top DJs, as well as bands from both Manchester and all over Europe. Deansgate Locks is one of Manchester's most upmarket areas, filled with fine dining restaurants, all under the beautiful curve of converted railway arches.
Offering a whole range of things to do, from the culinary delights to museum and galleries, Manchester is a vibrant city of activities and attractions. And if you rent a car in Manchester, you'll be able to take in everything on offer. Ready to book your trip? Click here.