Additional Drivers
Need to Add an Additional Driver to Your Car Rental? We've Got You Covered.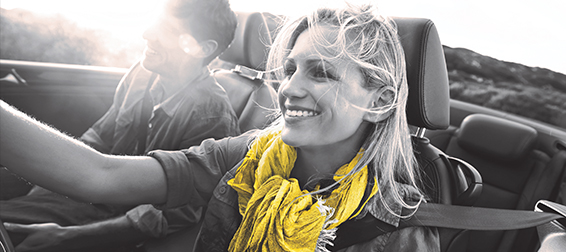 Whether you're embarking on a lengthy journey, or just want to take turns driving, Hertz gives you the option to add additional drivers to your rental. So, grab a friend, relax and enjoy the ride.

You can now add as many drivers as there are seats in your rental car. Ask your Hertz representative about adding an additional driver to your reservation at the Hertz counter. Additional fee applies.
FAQs
1.Is the Additional Driver charged per day of my rental, or is it a one-time charge?
Additional Driver is a per day, per person charge.
2.If I am under 25, am I able to add an Additional Driver to the reservation?
Yes, however there may be a Young Renter fee as well.
3.Am I able to add an Additional Driver while I am on rent?
Yes. If the renter wishes to add an Additional Driver, the renter and potential Additional Driver must both present themselves at a rental location with their valid driver's license and credit card. The Additional Driver must meet standard rental requirements.
4.Can someone else drive a car that I rent?
Yes. An Additional Driver, if added to the rental agreement, may drive the rental vehicle.
5.Do you charge extra for an additional driver?
Yes, there is an additional charge for each Additional Driver.
6. What do I need to show to become an additional driver?
To qualify as an Additional Driver, you must meet all standard rental requirements, have a valid credit card and driver's license in your name.