Mexico Travel Insurance
RENTAL CAR INSURANCE IN MEXICO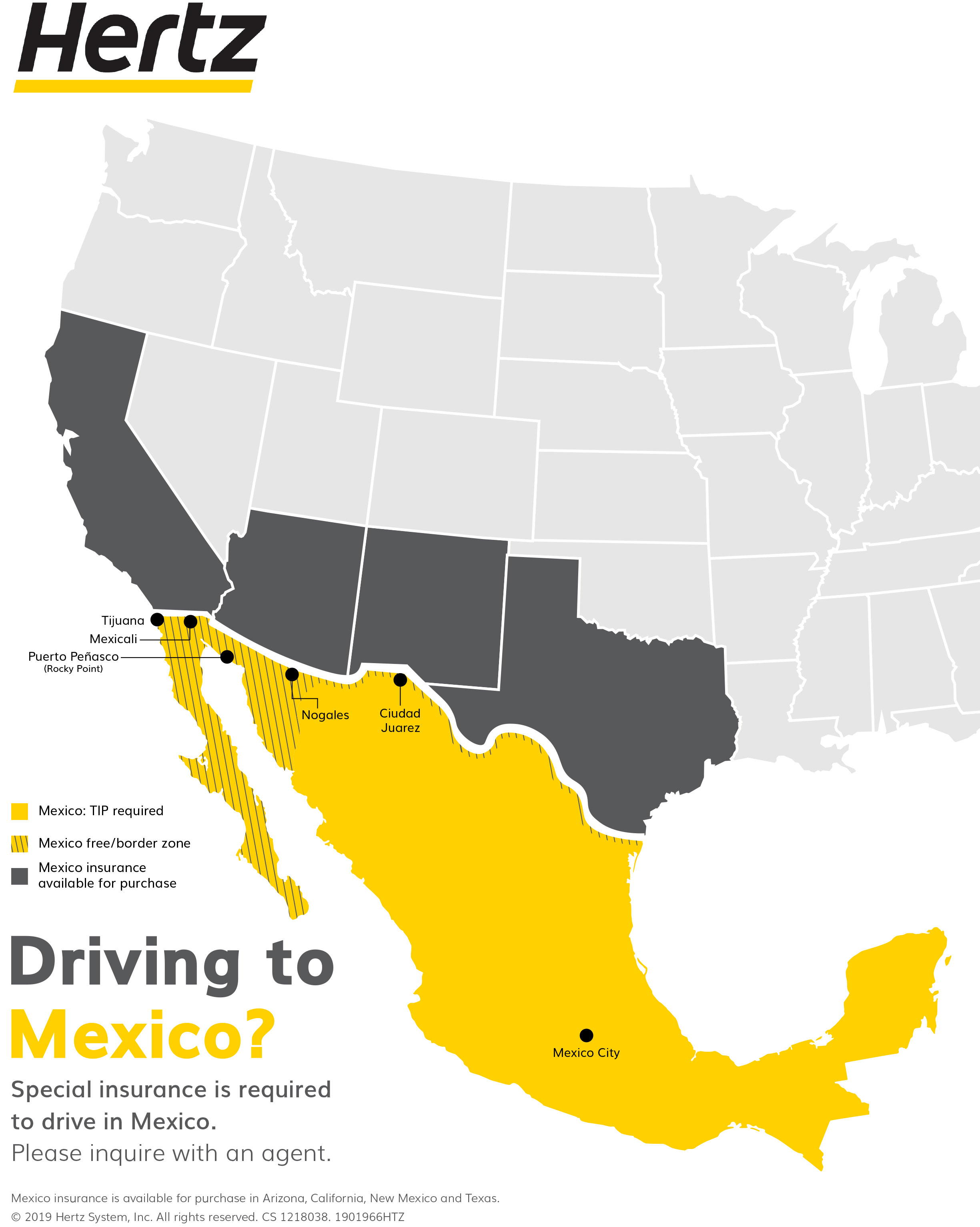 Mexico Insurance provides a customer with liability and asset protection necessary to be in compliance with Mexican law while visiting Mexico. Mexican law requires this insurance to drive into Mexico. Mexico insurance can only be purchased at the rental counter and not online. Mexico insurance is offered at all locations in Arizona, California, New Mexico and Texas for the Hertz, Dollar and Thrifty brands.
FAQs
1. Why am I required to purchase it?
Mexican border patrol requires a renter to be covered under a Mexico insurance policy in order to enter Mexico as it provides the renter/occupants and vehicle with legal compliance upon crossing the border.
2. What does the insurance cover?*

Liability for injury and/or damages to third parties
Collision and comprehensive coverage for the rental vehicle
Theft of rental vehicle
Medical expenses for vehicle occupants
3. Where is Mexico insurance available?
Mexico insurance is offered at all locations/all brands in the following states: Arizona, California, New Mexico and Texas.
4. What is a Temporary Vehicle Import Permit (TIP)?
A Temporary Vehicle Import Permit (TIP) is a permit that allows non-Mexican citizens to take a vehicle across the border into Mexico from other countries. It is required for areas outside the free or border zone. The free or border zone is the area between 20 and 26 km (12 to 16 miles) from the U.S.-Mexico border.

A TIP can be obtained through Mexico's national bank, Banjercito.**

Required documents:
It is recommended that customers carry three copies of each of the following documents:
Passport
Driver's license issued outside of Mexico
*Coverage limits:
Collision: $300 deductible
Comprehensive deductible: $1,000
Medical expense limit: $75,000
Third party liability limit: $300,000 (combined single limit for injury and/or property damage)
**For current requirements and other information, visit www.banjercito.com.mx/registrovehiculos
Schema Include developer notes.