Hertz Wi-Fi
STAY CONNECTED TO THE WORLD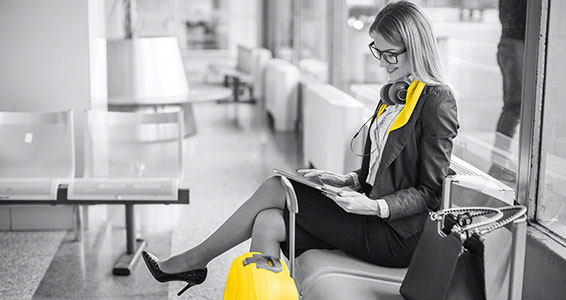 Strange roads. Spotty cell service. Roaming fees. When navigating new territory, you can't rely on smartphones alone. That's why we offer our unlimited, secure Wi-Fi device and hotspot that helps you stay connected—on and off the road.

Whether you're looking to find the best route, keep in touch with friends and family, or just catch up on emails, Hertz Wi-Fi device gives you the seamless connectivity you need to get the most out of your trip.
FAQs
1. What is this device?
Hertz Wi-Fi offers you complete connectivity for you and your passengers without using personal mobile data. The device allows you to experience Hertz Wi-Fi, GPS navigation, global text messaging, and calls. It features a robust selection of apps, such as a language translator, currency converter, social media, news, games, and more. Additionally, we have partnered with a wide array of restaurants, stores, and attractions to provide you with discount offers while you are enjoying your trip.
2. What are the benefits?

Hertz Wi-Fi offers:
Unlimited, secure, high speed data
Voice-activated, multi-lingual GPS navigation
International and national calling or texting
Built-in apps, such as language translator, currency converter, social media, news, and more
Special discount offers
No roaming fees
3. How can I rent the device?
When you arrive at the rental facility, ask one of our friendly agents to add the product to your rental.
4. Where is the device available?
Hertz Wi-Fi is available for rent at most major airports and select off-airport locations. Please contact your rental location to see if the device is available for rent.
5. How many devices can connect to Wi-Fi?
Up to 5 devices can connect to the device's Wi-Fi hotspot simultaneously.
6. Is there a data limit on usage?
No, the device provides you with Hertz Wi-Fi and data.
7. Is this Wi-Fi secure?
Yes, the Wi-Fi is password protected and a new password is generated for each rental.
8. Can I setup my own Wi-Fi password?
Yes, the password is customizable.
9. Is my information deleted from the device after the rental?
Yes, we reset the device after every rental, so all of your personal information is erased.
10. Is the device portable?
Yes, the device is compact and will fit easily in your pocket, purse, backpack, or briefcase.
11. Can I use the device for anything else but Wi-Fi?
Wi-Fi is only one of the many benefits of this device. You also have the ability to use it for GPS navigation, international and domestic calling/texting, and use the wide assortment of built-in apps.
12. What type of offers are available in the discount store?
We partner with a wide-variety of restaurants, stores, theme parks, and tours to offer you the best deals while you are on your trip.
13. What if I have additional questions?
For more information, please contact Customer Support:
800-654-3131 (US, Puerto Rico, and Canada)
800-654-3001 (International)